Our Team Is Nationally Certified!
Members of the Angel Design Team are Nationally Certified Hair Replacement Specialists.

We know there are many hair salons and now, even men's hair replacement centers, that offer the same services as Hair Therapy for Women. So, what sets us apart? It's simple: ALL of our staff members are Nationally Certified Hair Replacement Specialists.

You should expect more from a hair professional when it comes to making your hair dreams come true. It takes more than experience or being able to brag that you have numerous hours logged as a hair stylist. What does make the difference when it comes to how your dream hair is applied is the education and strict tests one has to go through to become nationally certified. At Hair Therapy for Women, we strive to continue our education in all areas of women's hair loss, and we stay abreast of the latest techniques when it comes to women's hair replacement and hair extensions. Bobbi Russell continues to train others who are new to women's hair loss solutions.

If you happen to be in the Tampa Bay area, look for the Hair Therapy for Women van.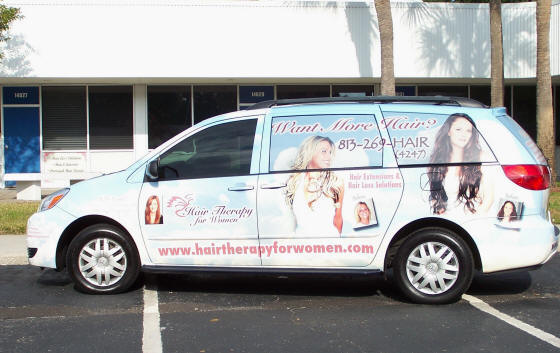 Meet the Angel Design Team
We are proud to announce two new Angel Design Team members, Tonya and Ashley. Come back soon to learn more about them!
---
Angela
Angie has been a professional stylist and makeup artist for over 7 years. She began her career as a Redken Educator specializing in corrective coloring techniques. Following her career with Redken, she moved on to be an educator for Scruples Professional Haircare. She has been a certified Makeup Artist by Jane Iredale Mineral Cosmetics. In 2006 she accepted a position as a Learning Leader and Color Specialist at the prestigious Paul Mitchell School in Tampa, Florida.

Angie believes working as a member of the Angel Design Team at Hair Therapy for Women has positively changed her life. She states, "I have met some of the most beautiful women who have touched not only my heart, but my soul! Being able to bring a smile to someone's face who feels like she has no hope is the most gratifying feeling. I am so blessed to have the opportunity to be touched by these incredible women. They have definitely found a special place in my heart. I couldn't imagine ever having another career."

Erica
As the daughter of Bobbi Russell, Erica has always been exposed to hair services. She has the same passion as her mother to help women who suffer from hair loss or who just want luxurious dream hair. Erica began Cosmetology School during her junior year of high school and is currently a full-time member of the Angel Design Team. Following in her mother's footsteps, Erica continues her education to ensure that her clients receive only the ultimate in hair care.
Rhonda
Rhonda's extensive background in sales and marketing encompasses women's issues involving health, fitness, and beauty. After meeting Bobbi as a client in 2004, she was recruited to join the staff of Hair Therapy for Women as the Adminstrator/ Marketing Manager. Her extenisve history in customer care and keen attentiveness to clients is one of the things that makes Hair Therapy for Women Tampa's premier women's hair additions studio. "Women not only trust us with their hair," states Rhonda, "they trust us with their lives. At Hair Therapy for Women we do more than just hair...we change lives!"